Reference Books
Click on any topic to get started, you will get to see syllabus, topics linked to related blog post.
Bhakta – Professional Hotel Front Office Management-MC GRAW HILL INDIA (2011)
This book has been written keeping in mind not only to cover syllabus prescribed by National Council for Hotel Management and Catering Technology (NCHMCT), NewDelhi but also complies with the syllabi of various other Indian universities offering degree courses in hotel/hospitality management. The author has included various practical aspects of Front Office Management which he felt students need to imbibe during their academic stint. These inclusions are dealt in detail so that the students become equipped enough to manage themselves when they enter the professional world
Hotel Front Office Management
Hotel Front Office Management uses a human resources approach to cover the unique management and operational challenges in the front offices of today′s hotels and lodging facilities. This Fifth Edition continues its emphasis on applying theory and management strategies, as well as providing updated material on select–service hotel front office operation. It addresses the impact of the recession on the hotel business and discusses the impact of social media and guestroom technology on the hotel business and how the Internet is the single most important travel planning and distribution channel in hospitality. There is also new and updated information on environmental and sustainability issues, particularly as it relates to housekeeping topics.
Food and Beverage Service
Understand both the key concepts and modern developments within the global food and beverage service industry with this new edition of the internationally respected text.
– Covers all of the essential industry knowledge, from personal skills, service areas, and equipment, menus and menu knowledge, beverages and service techniques, to specialized forms of service, events and supervisory aspects
– Supports a range of professional food and beverage service qualifications, including foundation degrees or undergraduate programmes in restaurant, hotel, leisure or event management, as well as in-company training programmes
– Aids visual learners with over 200 photographs and illustrations demonstrating current service conventions and techniques
The Larder Chef
The Larder Chef reflects the changing attitude to food and its preparation in recent years. While still retaining its practical approach, it recognizes current trends and fashions in food presentation and service style.
A number of new illustrations have been added to the book for greater clarity. National Diploma students, apprentice chefs and catering students will find this manual particularly useful.
* An authoritative, clear and practical introduction to the fundamentals of food preparation and service
* Used by generations of students in catering as well as professional chefs worldwide
* Hugely revised and now heavily illustrated for maximum clarity and effectiveness
Garde Manger: The Art and Craft of the Cold Kitchen
Garde Manger: The Art and Craft of the Cold Kitchen has been the market′s leading textbook for culinary students and a key reference for professional chefs since its original publication in 1999. This new edition improves on the last with the most up–to–date recipes, plating techniques, and flavor profiles being used in the field today. New information on topics like artisanal cheeses, contemporary styles of pickles and vinegars, and contemporary cooking methods has been added to reflect the most current industry trends. And the fourth edition includes hundreds of all–new photographs by award-winning photographer Ben Fink, as well as approximately 450 recipes, more than 100 of which are all–new to this edition. Knowledge of garde manger is an essential part of every culinary student′s training, and many of the world′s most celebrated chefs started in garde manger as apprentices or cooks
On Cooking
For nearly two decades, On Cooking: A Textbook of Culinary Fundamentals has instructed thousands of aspiring chefs in the culinary arts. The Fifth Edition Update continues its proven approach to teaching both the principles and practices of culinary fundamentals while guiding you toward a successful career in the culinary arts
Professional Cooking, Seventh Edition
This is the best–selling undergraduate food preparation textbook in the marketplace. It has a long standing reputation for being comprehensive, yet easy for students to understand and follow. Wayne Gisslen′s reputation for being able to simply, yet comprehensively, communicate information to beginning chefs is unsurpassed.
Professional Cooking, Seventh Edition includes videos that will help further illustrate the correct techniques in the kitchen. On top of that there are over 100 new recipes, some with particular emphasis on international cooking.
Enhanced visual program includes over 220 new color photos, including plated dishes, procedures, and products.
Approximately 100 new recipes have been added, for a total of 650 recipes plus another 600 variations.
More focus on international recipes and variations.
Enhanced topical coverage on such things as: food science, molecular gastronomy, international recipes, and culinary maths.
Chapter 10, Understanding Meats, now includes all information on meat fabrication in one convenient place.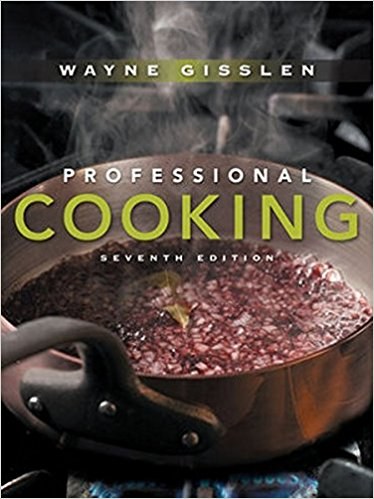 The Cook's Book of Ingredients
Perfect for home cooks, keen to ensure they choose the very best and get the best results. Learn how to buy, store, prepare, cook, preserve and eat over 2,500 ingredients. Plus you'll learn about the best seasonal ingredients and discover complementary flavour pairings.
Over 250 classic recipes from making pesto to fruity jams, with easy-to-follow, step-by-step instructions that you'll love making again and again.
Written by a team of global culinary experts, The Cook's Book of Ingredients brings together their collective expertise to showcase key ingredients from around the world, from Italian and Indian to French and British
Practical Cookery 11th Edition
Key features include:
Over 60 brand new recipes
Additional material and updates to every chapter, all clearly mapped to the NVQ and VRQ Level 2 specifications
Chef's tips by John Campbell providing practical, useful advice
Marketing Management
The world of marketing is changing everyday–and in order for students to have a competitive edge, they need a textbook that reflects the best of today's marketing theory and practices. Marketing Management, 15/e, is the gold standard marketing text because its content and organization consistently reflect the latest changes in today's marketing theory and practice. The fifteenth edition is updated wherever appropriate to provide the most comprehensive, current, and engaging marketing management text as possible.
Food and Beverage Management, Fourth Edition
It explores the broad range of subject areas that encompass the food and beverage market and its five main sectors – fast food and popular catering, hotels and quality restaurants and functional, industrial, and welfare catering. New to this edition are case studies covering the latest industry developments, and coverage of contemporary environmental concerns, such as sourcing, sustainability and responsible farming. It is illustrated in full colour and contains end-of-chapter summaries and revision questions to test your knowledge as you progress. Written by authors with many years of industry practice and teaching experience, this book is the ideal guide to the subject for hospitality students and industry practitioners alike.
The New Larousse Gastronomique
The New Larousse Gastronomique
– The Encyclopedia of Food, Wine & Cookery
The Complete Home Bartender's Guide
This beautifully illustrated edition of the home-bartending bible by world-renowned bartender Salvatore Calabrese includes 50 new recipes along with instructions for preparing virtually any cocktail. With encyclopedic information about every liquor, here are 830 of Salvatore's personal favorites, from classics like the Negroni to exotic modern reinventions like the Cosmopolitan. Stir in a sparkling blend of insider info and gorgeous color photos, garnish with live-action pictorials of dozens of techniques, and you've got everything necessary to become a master of mixology.
Professional Baking: Sixth Edition
Gisslen′s 6th edition of Professional Baking continues to educate hundreds of thousands of readers with clear, detailed instructions in the theory and techniques necessary to meet the demands of the professional kitchen.  The text continues to comprehensively cover baking basics while also offering enhanced coverage of higher–level techniques such as pastry, chocolate, and sugar work. Balancing theory and practice, Professional Baking provides both the understanding and performance abilities needed to progress and develop in a successful baking career
Financial Management
Financial management is a core subject which provides an unavoidable part of the overall business management. This book adopts a fresh and innovative approach to the study of financial management for the students of B.Com., B.B.A., M.Com., M.B.A. and other professional courses like C.A., ICWA, C.S. The text is presented in the simplest language with easy concepts. Each paragraph has been arranged under a suitable heading for quick retention of concepts. This book also contains the suitable illustrations, solved problems and model questions.
The Professional Pastry Chef: Fundamentals of Baking and Pastry
The reference of choice for thousands of pastry chefs and home cooks
A favorite of pastry lovers and serious chefs worldwide, The Professional Pastry Chef presents comprehensive coverage of basic baking and pastry techniques in a fresh and approachable way. Now skillfully revised and redesigned to meet the needs of today′s pastry kitchen, this classic reference is better–and easier to use–than ever.
The new edition contains more than 650 recipes, which offer a new emphasis on American applications of European techniques with yields suitable for restaurant service or for entertaining at home. It shares encyclopedic guidance on everything from mise en place preparation and basic doughs to new chapters covering flatbreads, crackers, and homestyle desserts.
Legal Handbook for HR Manager
The Legal Handbook for HR Managers is an essential reference not just for managers for all those who are engaged in the HR function. It gives an easy to access bird's eye view of the bevy of regulations that an organization needs to comply with.
The Curry Guy Bible: Recreate Over 200 Indian Restaurant and Takeaway Classics at Home
The Curry Guy Bible brings together 200 of Dan Toombs' classic dishes, developed over more than two decades of eating his way around Indian restaurants, takeaways and food stalls. Fans of The Curry Guy love his recipes – because they *really* work, tasting just like your curryhouse favourites. For the first time Dan offers 150 of his most popular recipes in one place, everything from Chicken Tikka Masala to Lamb Rogan Josh, Saag Paneer to Vegetable Samosas, Tandoori King Prawns to Shawarma Kebabs. Plus there are 50 brand-new, mouthwatering recipes that you won't find anywhere else. Here are all the starters, sides, curries, grills, breads, chutneys and rice dishes you will ever need, including some exciting new veggie options. With a guide to essential ingredients and simple cooking tips throughout, The Curry Guy Bible is the only curry cookbook you will ever need.
Found this page useful?
Do share with your friends too.
Do you have any important ebook not listed here?
Please send us that book at [email protected]  We will consider placing in this section.